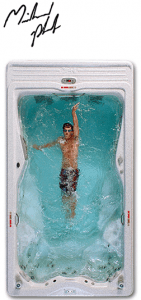 A Michael Phelps Signature Swim Spa by Master Spas is a perfect solution for those that wish to pursue an active aquatic lifestyle, yet do not have the an Olympic-sized backyard pool. Even the largest exercise spa seems small compared to a swimable pool, and you won't get dizzy from turning every few strokes during your swimming work out because the Wave Propulsion Technology creates a truly endless pool!.
The Wave Propulsion™ Technology in a Michael Phelps Swim Spa features a unique propeller design that provides a wider, deeper, and smoother current — giving you a swimming experience that is far superior to any other home swim spa. The resistance is fully adjustable with the Swim Number System™ allowing swimmers of varying ability to customize the flow and gage their performance. Imagine swimming any day of the year, right in your own backyard, because the convenient digital controls allow you to set the water temperature where it's most comfortable for you.
The Michale Phelps Signature Swim Spas by Master Spas were designed in collaboration with Michael himself and his coach Bob Bowman to provide a real training pool environment. No other swim spa on the market can generate such an excellent swim current or provide the design amenities you expect from Master Spas.
Let Swim Fitness show you how to Get in the Flow!