Website Redesign Service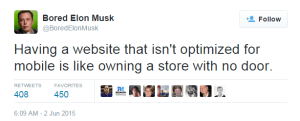 If you have an antiquated website and you're not happy with the results you've been getting, don't assume that the web doesn't work for your business. Older websites need to be periodically updated to include newer and better information about your business and what you do, and to ensure the site is fully Responsive and compatible with smart devices, phones, tablets and all the ways people currently view websites and get information on-the-go.
See what a website redesign looks like!
Modernized intuitive navigation and a new look is only the VISIBLE aspect of website redesign.
The majority of searches for local businesses are now done on smart phones.
Is your website compatible for mobile?
Redesigning an old website can:
make site navigation more modern, intuitive and interactive

modernize the website's appearance and style

work in a Responsive way across all digital device types

improve marketing effectiveness

improve ranking in organic search results

increase website visitors, sign-ups and online sales!
When you have an existing website, we don't have to start from scratch. We work with you to identify what wording should be moved over to the new site, which old pictures should be included with new pictures, and what exactly you want to keep from your old website as we build a new Responsive website from the existing pieces. We can include existing font styles, match colors, and include those key visual elements that you consider essential.
Website redesign is custom work, and an analysis of your existing site can determine exactly how much programming time, and what cost to you, your website redesign will require.