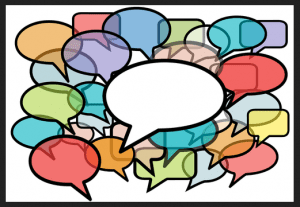 Something big happened in the worlds of social media and search this month. After much speculation about search engines factoring social media influence into website rankings, we got hold of a big interview with Bing and Google to find out that indeed, social media IS affecting search rankings. BIG STUFF!
What I mean is, if someone influential shares a link to this blog post, it is that much more likely to show up in search results than it would if I just "SEO'd" the heck out of it…hint hint. So suddenly, in the world of search, people matter!
In case you think this is old news, we're not talking about social search ranking, such as Google Social Search or Realtime Search. We're talking about ordinary web search. Aside from their super secret algorithms, we already know that Google takes into consideration the PageRank of a webpage as well as the links pointing to that page and the HTML title tag. But now, rather than just looking at the web page's authority, these search engines are starting to look at human authority too and so far, Twitter is the biggest indicator.
Both Google and Bing have announced that authoritative people on Twitter lend their authority to pages they tweet. In the case of Bing, the search engine takes into consideration how often a link has been tweeted, as well as how influential the users are that share it. Google answered that it only uses the data in limited situations (as vague as their algorithm) but they ARE using it.
As for Facebook, Bing pays attention to links shared that people share on their profile if they are marked as "everyone" and links shared from company pages. Google doesn't factor in personal wall data at all and treats links shared on company pages the same way they treat tweeted links. It's a bit harder for the search engines to determine the authority of a person on Facebook than it is on Twitter because of the lack of public information so really they're just looking for trends to surface that will help them rank a webpage.
So how does this affect your marketing plan? Here are my three takeaways that you should keep in mind as social media and search blend and you plan for 2012:
1. Get on board
Your business, product or you need to have a presence on social media NOW. If you've been avoiding it because you don't care to fill that piece of your marketing plan just yet, now is the time (how many times have you heard that!?). Everything is integrating together and will continue to be. If you build your presence now, you just may build the relationship with influencers that you'll need when social media and search truly mesh. It is possible that one day we will see that you can't have a good ranking without social media influence.
Furthermore, no matter what you think of company pages, they are currently the most available for search engines. So if you're thinking of starting one, now is a good time. If you already have one, get in the practice of thinking about search when you're busy being social. Use keywords that support your search goals when linking to your website or blog posts and start networking with other company pages to help share your content (more on that in number three).
2. Make influence a priority
Influencers are more important than ever. You can find them by looking at their Klout score or simply check out the size of their network and interactions. When you find people that are impressive, engage. Target the influencers that truly fit your niche and share your interests. Take the time to figure out what they love and then create a strategy around talking with them. If you build trust and respect with influential people, there's a good chance they'll share your links.
Also remember that being an influencer is just as important as having relationships with influencers. Luckily, there are steps you can take to make yourself more influential. For some insight on this, check out @CallanPaola's blog post on how to raise your Klout score. As social media and search continue to merge, who you are and who you know is affecting far more than just your ego.
3. Be social:
Being social is a BIG deal. I'm not talking about just being on social networks but interacting with people and sharing content. There's a lot of talk about link baiting, but if you look at it as simply being social, you'll have much more success. If I share your link, you are more likely to return the favor. If I put my content all over the web, people are more likely to find it (a little bit of strategy here helps of course). If I include your opinions in my blog post, you'll may want to boast about it as I alluded to in number one. If I partner with other company pages on Facebook, we open doors for each other to share information with like-minded audiences.
Getting the hang of being social, being influential, and working with influencers is a big deal already. Now that it's affecting search, it's taken over even a bigger piece of your marketing pie. Get in touch with us today to learn more about utilizing social media as relevant to your particular company and needs, and hey; we can even manage your social media campaigns for you if needs be. Carpe diem!